Not all humidifiers are the same. How to choose the right one?
Not all humidifiers are the same. How to choose the right one?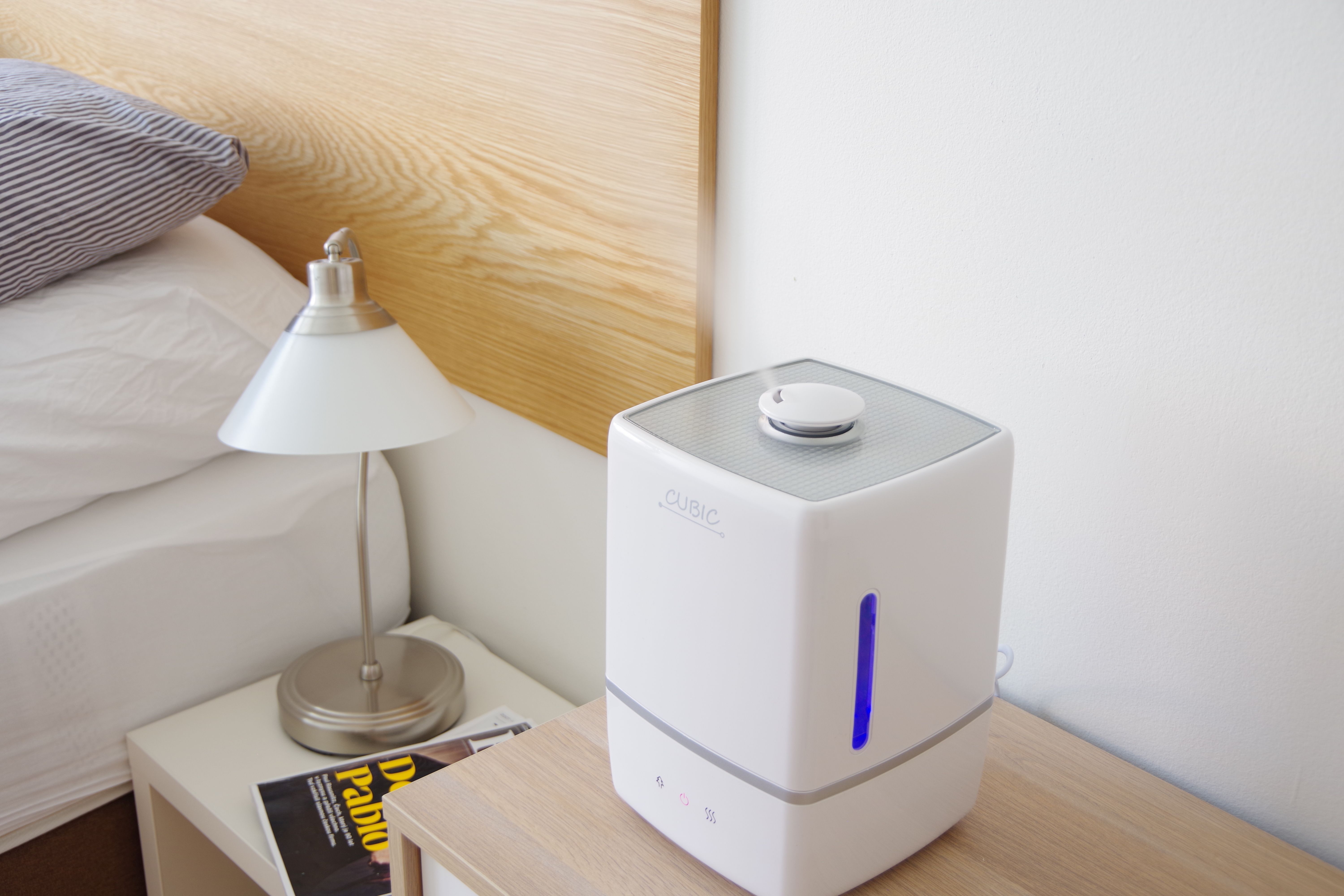 Mar 24, 2021
Home is the place where we spend the most time with work or school. In home office time this is doubly true. That is why it is very important to check the air condition. The two basic properties that shape the climate are temperature and humidity. While almost everyone solves the room temperature at home, humidity is often forgotten. However, it is just as important because it affects the quality of breathing or food storage. Not sure what kind of humidity you have at home? The solution is simple: buy a weather station or a hygrometer that will monitor the humidity in the room for you. Prices are in the order of several hundred crowns. This investment will pay off soon, because with the right climate setting you will save up to 10% on energy costs.
Experts in healthy air agree that the ideal value of humidity in living spaces is between 40-60%. In many cases, however, the values ​​are outside this range.
For example, in new buildings or older houses, the humidity is much higher, which is due to the fact that after their completion, it takes another year or two for the internal plasters, paints and coatings to dry completely. Too good sealing of new windows contributes to high humidity. The consequence of such a condition is constantly dewy windows, spreading mites and mold developing in the corners of rooms, around windows or on the walls behind furniture. In this case, it is advisable to use air dryers, such as the popular dehumidifier for the bedroom Airbi SPONGE, which draws up to 750 ml of water from the air per day.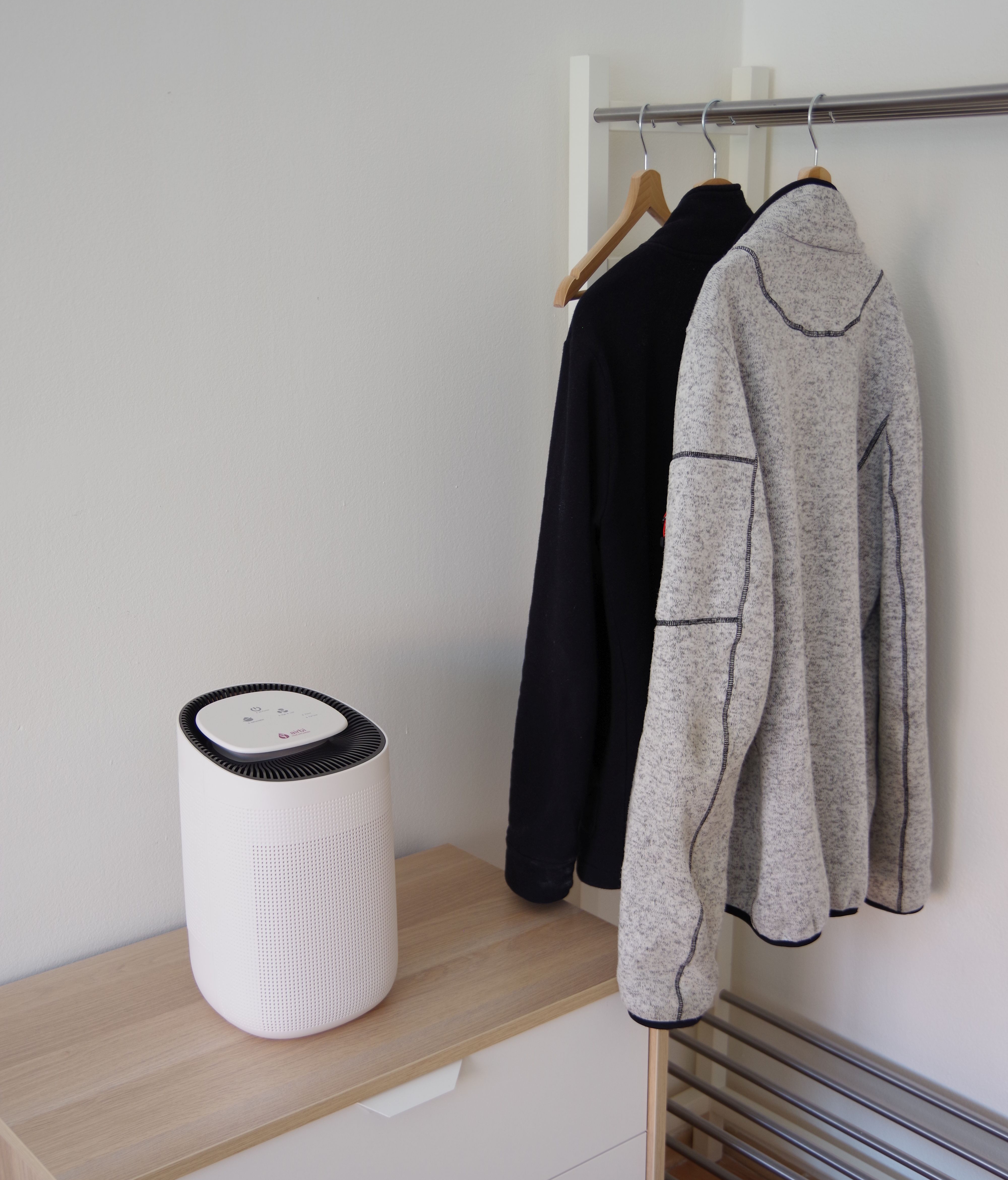 Air dehumidifier Airbi SPONGE
The opposite and more common problem is when the humidity is too low. Such a situation usually occurs in places that are heated centrally - i.e. in prefabricated or family houses. Humidity drops below 30% and this results in not only withering plants, drying of wooden furniture and musical instruments, but also frequent health problems for their inhabitants.
Health consequences of low humidity
At low humidity, people suffer from many problems. Dust particles, bacteria, viruses or mite droppings are normally captured by the nasal mucosa and exhaled back. In dry air, however, they reach the lungs, which reduces the natural defenses, overloads the immune system and subsequently irritates the mucous membranes. The result is other problems such as coughing, scratching in the throat, sinusitis, burning eyes, runny nose or stuffy nose. Above all, however, low humidity worsens the quality of sleep and thus creates an overall feeling of fatigue. Your skin also suffers from dry air, itching and bursting due to low hydration, thus losing its function as the body's external barrier. The good news is that you can easily eliminate all these health problems by raising your humidity to an ideal level. How to achieve this effectively? Using a humidifier.
How to choose the right humidifier
We all experienced a wet towel or a container of water for heating. This method can only humidify the air to a limited extent. Much more effective are specialized humidifiers that can easily handle a dry environment. Individual devices differ in equipment. Some have a hydrostat to control humidity, others with water heating or an ionizer. There are several principles on which humidifiers work, but they all have one thing in common: just fill with water and turn it on.
Thanks to ultrasonic technology, the vibrating membrane breaks down water into small droplets. These are then dispersed by the fan into the air, where they evaporate. Visible steam is cold and harmless to health. Ultrasonic devices have low power consumption and sufficient power. When water vapour is generated by ultrasound, minerals are released into the air, so it is necessary that devices with this technology are equipped with water filters. Therefore, these devices are not suitable for environments with very hard water. Airbi STAR with water heating, hydrostat, PLASMA system and aromatherapy options is one of the best in the category.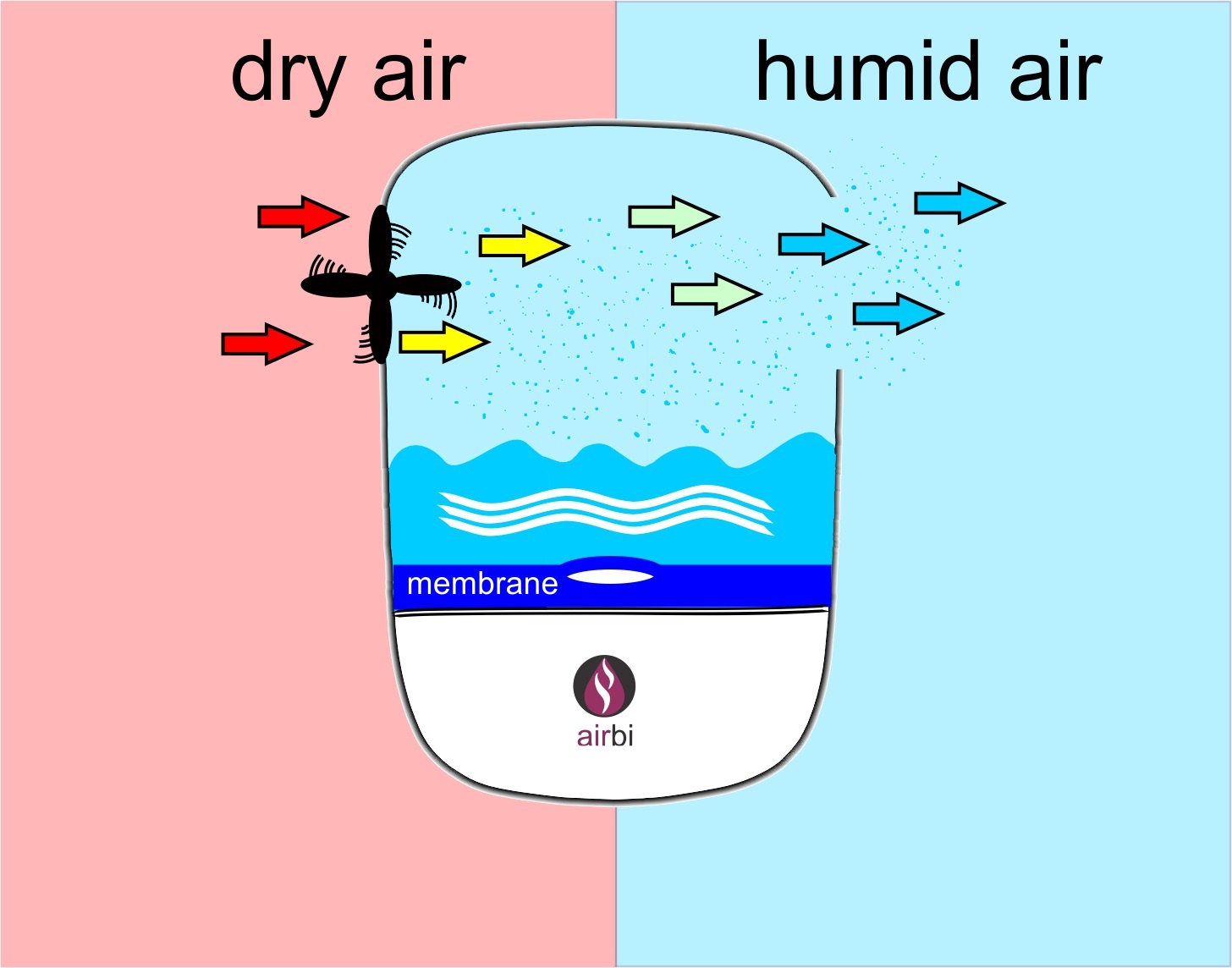 Ultrasonic humidifier diagram
HEAT EVAPORATION
The water inside the appliance heats up to a high temperature. This creates water vapour without bacterial germs, which are destroyed by the high temperature. The hot steam spreads in all directions in the room and increases the relative humidity very effectively. The steam created in this way is ideal especially for allergy sufferers. These humidifiers are highly productive, so they should always be equipped with a hydrostat to control humidity. But at the same time, you need to be careful if you have small children or animals at home. The steam temperature is around 100 ° C.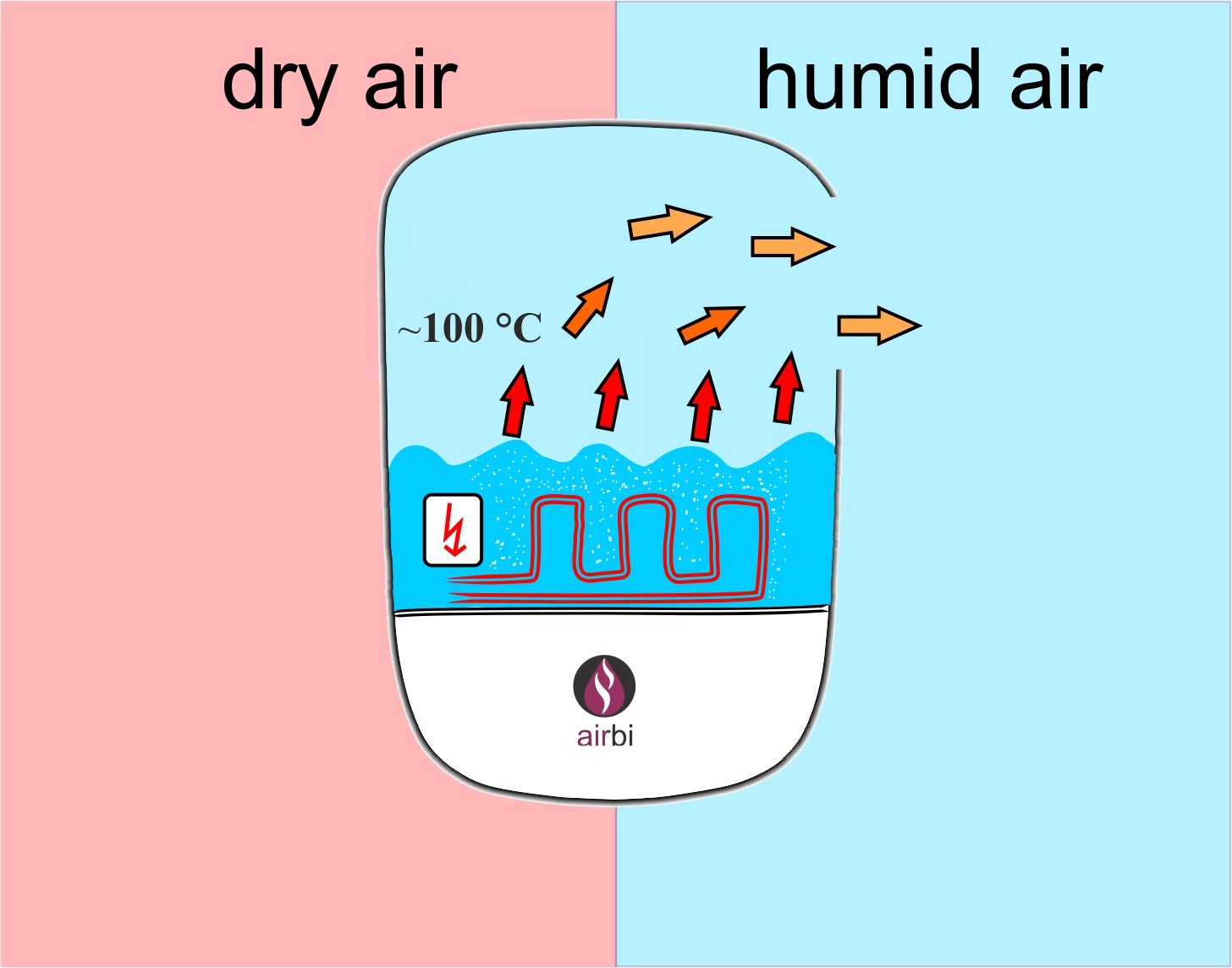 Heat humidifier diagram
It is necessary to distinguish between air washing and evaporation. The so-called "air washers" are a combination of a purifier and a humidifier. Water adheres to the surface of special evaporating discs, through which the fan blows dry air. Moisture is then dispersed into the surroundings. Humidifiers working on this principle are high-performance devices that have low operating costs and are almost noiseless. Air washers have a great advantage over other principles. In addition to humidification, they also clean the air of unwanted substances and microorganisms and thus offer a comprehensive solution for the care of healthy air.
The humidifier Airbi MAXIMUM with huge power, HEPA filter and PLASMA system is one of the best equipped devices on the market.
In evaporative humidifiers, the main role is played by a evaporating filter (e.g. a paper filter), from which the water is evaporated by means of a fan. However, this type of humidification can become more expensive over time, the platform usually has a short life and it is necessary to change it quite often.
TECHNOLOGY
BENEFITS
GOOD TO KNOW
MAINTENANCE

HEAT EVAPORATION

The water evaporates thermally


 

Fast and strong humidification
The steam is free of all microbes and minerals
Hydrostat (it is possible to set the target humidity on the device - selected models have this function)

Very hot steam can be dangerous for small children and animals
Not suitable for too hard water
The air can be supersaturated (possibility of water condensation if the device does not monitor the target humidity)
Higher electricity consumption energy
It is not possible to use fragrant essences

It must be cleaned of limescale regularly (approx. twice a month)

ULTRASOUND PRINCIPLE

The water is ultrasonically decomposed into microdroplets and they spread to the surroundings

Very quiet
Low energy consumption

Fast and strong humidification

Reheating, which increases the amount of water vapor at the outlet and destroys bacteria (for selected models)
Possibility to add fragrant essences (for selected models)
Hydrostat (it is possible to set the target humidity on the device - selected models have this function)

Not suitable for use with hard water

The air can be supersaturated (possibility of water condensation if the device does not monitor the target humidity)

Replacement of water and antibacterial filter (1-2 per year depending on water hardness)
It must be cleaned regularly of limescale

EVAPORATIVE HUMIDIFIER

The water evaporates naturally (evaporative filter)
 

Very quiet
Low power consumption energy
Easy maintenance
When using hard water, no minerals are deposited on the furniture
Possibility to add fragrant essences (for selected models)
Hydrostat (it is possible to set the target humidity on the device - selected models have this function)

High operating costs - frequent replacement of evaporative filters 

Evaporator filter replacement (every 2-3 months)

Antibacterial filter replacement (1x per year)

AIR WASHER

The water evaporates naturally (rotating discs)

Very quiet
Very high efficiency and low energy consumption
Easy maintenance
When using hard water, no minerals are deposited on the furniture
Possible use of water of different hardness
Hydrostat (it is possible to set the required humidity on the device)
Cleans the air from large particles (dust, pollen ...)

Slightly higher purchase price

Antibacterial filter replacement (1x per year)