Airbi CUBIC
Are you looking for a well-equipped humidifier that won't cost a fortune? Then bet on Airbi CUBIC. It is a multifunction device which, in addition to the humidification function, is also equipped with ionizer and aroma box for essential oils. And thanks to the steam preheating option, the humidity increases in no time.
Airbi CUBIC helps with these problems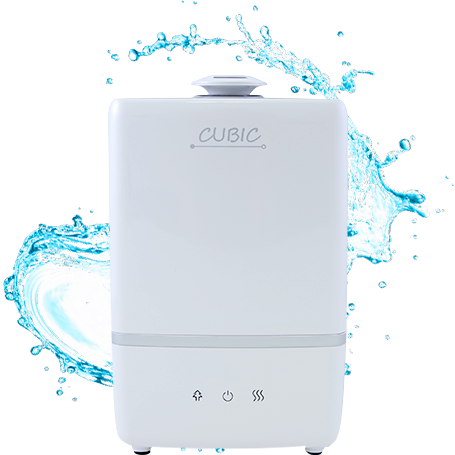 45 €
Recommended retail price
3 in 1 - humidifier, ionizer and aromatherapy
Water and antibacterial filter
3 levels of manual operation
Rotary output nozzle
Steam preheating
Automatic shut-off when the tank is empty
Handle for convenient water replenishment
Description
CUBIC is multifunction device which, in addition to the humidification function, is also equipped with ionizer and aroma box for essential oils. The ionizer emits negatively charged ions into the air, which are beneficial to health and help clean the air from dust or tobacco smoke. The result is fresh air like in the mountains or by the sea. By adding your favorite scents, you can make the climate even more pleasant and take advantage of the beneficial effects of aromatherapy.
CUBIC has a really big (5 liters) water tank, so it can work night and day on one refill. And when it runs out of water, you can easily transfer the tank to the tap with a comfortable handle and refill it.
CUBIC offers three levels of steam output, the output itself can be directed by means of a rotary nozzle as desired. You can also turn on the water heating function for a faster effect of humidification. The LED touch panel with the buttons directly on the device is used to set the functions.
The specialty of the CUBIC ultrasonic humidifier is  high performance at very low power consumption. Thanks to this CUBIC manages, with the help of clean and fresh steam, to humidify the room of 35 m2. The package also includes an antibacterial and water filter, which eliminates dangerous bacteria and lime scale in the water.
| | |
| --- | --- |
| Water tank capacity | 5 liters |
| Humidifier power | 120–300 ml/hod |
| Recommended room size | 35 m2 |
| Power consumption | 30-110 W |
| Noise | 35 dB |
| Dimensions | 193 x 193 x 294 mm |
| Weight | 1,8 kg |
| Colour | white |
| EAN | 8594162600564 |
---
What is the service life of the water filter?
Is a humidifier enough for 3 rooms of a small apartment?
What happens when the device consumes all the water in the tank?
After a while, a fine white powder began to settle on the furniture and the television. Why is it?
An odour comes out of the device. Why is it?
The device makes an unusual noise. Where is the problem?
Why are there small water droplets around the humidifier?
The device releases less steam than before. What should I do?
Can I add aroma essence to the humidifier?
Water flows out of the humidifier. Why is it?
How to use essential oils?
Is it normal to have water in the bottom water tank of the humidifier?