Airbi SPACE WiFi
Airbi SPACE WiFi is a mobile air purifier for large spaces with a very accurate particle sensor, automatic mode and a multi-stage filtration system. SPACE can clean a room up to 160 m2 and thanks to the wheels on the bottom you can easily move it to its place.
Airbi SPACE WiFi helps with these problems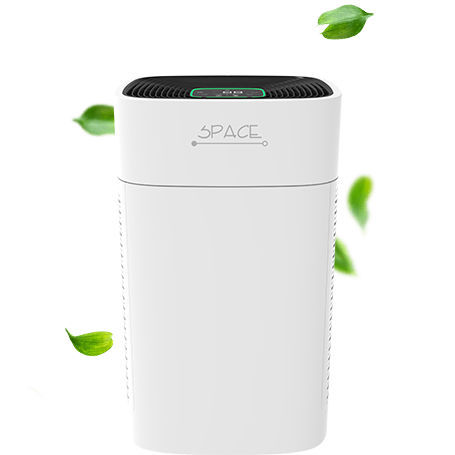 599 €
Recommended retail price
Filter replacement control system
6 operating modes
Remote control via WiFi
Children's lock
Ultra-quiet engine
Operation timer
Description
Airbi SPACE WiFi is a mobile air purifier for large spaces with a very accurate particle sensor, automatic mode and a multi-stage filtration system.
Air quality in many workplaces is not always ideal. The professional Airbi SPACE WiFi air purifier provides an easy solution for eliminating dust, pollen, odours or harmful gases. Its powerful engine only needs a few minutes to ensure fresh and clean air in a room of up to 160 m2. The unit is mobile and thanks to the robust wheels it can be easily moved and placed in another room.
Airbi SPACE WiFi uses a multi-layer filtration system (HEPA filter level H13 included), which is suitable for removing bacteria, odours, allergens or volatile organic compounds. The modern laser sensor, which measures small particles up to 2.5µm, is integrated for continuous monitoring of the air in the room and automatic mode control. Airbi SPACE WiFi uses several advanced functions: night mode, timer, child lock or anion generator - ionizer. A very useful feature is the control system for filter replacement.
The device has a LED display for easy identification of each feature. Each function can be easily set using the buttons on the top panel. You can quickly recognize the air quality thanks to the coloured indicator - blue means excellent conditions, green indicates good conditions, orange indicates poor air quality and red already indicates unsatisfactory air quality.
Airbi SPACE WiFi is a highly modern device with the possibility of remote control and monitoring of values. It has a built-in WiFi receiver, so you can use the application to turn the purifier and its individual functions on and off, or monitor air quality values when you are away, from anywhere in the world, all you need is a smartphone / tablet and an internet connection.
You can download the Smart Life application at Google Play orApple App Store.
Air purifier Airbi SPACE WiFi has a positive effect on the environment and removes dangerous viruses from the air. At the same time, the Airbi SPACE WiFi captures pollen and is therefore also suitable for allergy sufferers.
Při používání je kvalita ovzduší znatelná.
Výhodou je dálkové ovládání a ovládání čističky přes aplikaci. Nevýhody jsme zatím nenalezli.
Opravdu účinný a přitom tichý
Čistička vzduchu je velmi tichá. Je možné ji nechat běžet přes noc a v klidu u ní spát. Zároveň udržuje příjemný vzduch v místnosti.
+tichý
+vzhled
-zatím nic
View all
| | |
| --- | --- |
| Air output | up to 800 m3 |
| Recommended room size | 160 m2 |
| Power consumption | 85 W |
| Noise | 30-66 dB |
| Dimensions | 400 x 400 x 669 mm |
| Weight | 14 kg |
| Colour | white |
| EAN | 8594162600762 |
---
What is the service life of the pre-filter?
What is the service life of replaceable filters?
The ambient air is polluted, but the device is signalling good air (blue colour).
How does SPACE calculate air quality?
An odour comes out of the device. Why is it?
Does the device produce ozone?
The purifier cannot be switched on. Where can the problem be?
The device has been in operation for a long time, but the air quality has not improved.
How do I know when the filters need to be replaced?