Airbi TRIO
Climate expert - this is the Airbi TRIO, which is equipped with three wireless temperature and humidity sensors, so you can monitor these variables in 4 different places. The device remembers the maximum and minimum values, displays the humidity comfort icon and has the option to backlight the display.
Airbi TRIO helps with these problems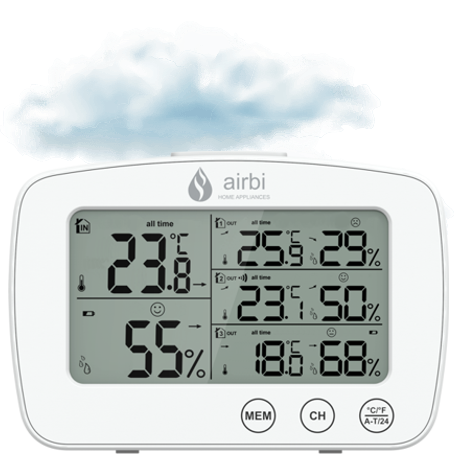 45 €
Recommended retail price
measures temperature and relative humidity
the package also includes three wireless transmitters (max. range 100 m)
large and clear display with backlight options
memory for MAX and MIN values
indication of humidity comfort
indication of temperature development/humidity
low battery indication
Description
The digital wireless thermometer with air humidity meter Airbi TRIO measures room temperature in the range of -10 ° C to + 50 ° C and room humidity in the range of 20-95%. The package already includes three wireless temperature and humidity sensors, which communicate at a distance of up to 100 m (outdoors). With the Airbi TRIO you can monitor the temperature and humidity in 4 different places. Wireless transmitters are designed for both indoor and outdoor use. The display with the option of short-term backlighting offers the user a quick overview of all measured variables without the need to switch between transmission channels.
The Airbi TRIO remembers maximum and minimum values for the entire operating time (manual reset) and at the same time for the last 24 hours (automatic reset). The advantage is also other information icons such as indication of temperature or humidity development and indication of humidity comfort by means of a smiley face. The device also has an indication of low batteries both in the base and in the individual transmitters.
Temperature measuring range

Base: -10 °C to +50 °C

Wireless sensor: -20 °C to +60 °C

Humidity measurement range

Base and wireless sensor: 20-95 %

Accuracy of temperature measurement

+/- 1°C (0°C to +40 °C), otherwise +/-2°C

Accuracy of humidity measurement

+/- 5 % ( at 40...80%)

Power supply

Base: 3x 1.5 V AAA batteries (not included)

Wireless sensor: 2x 1.5 V AAA batteries (not included)

Dimensions

Base: 152 x 104 x 22 mm

Wireless sensor: 50 x 105 x 26 mm

Weight

Base: 179 g

Wireless sensor: 52 g
---
Why do the measured values ​​differ from those measured by other measuring instruments?
Where to place the measuring instrument?
Why does the display show - - instead of outdoor values?