Airbi TRIO
Climate expert - this is the Airbi TRIO, which is equipped with three wireless temperature and humidity sensors, so you can monitor these variables in 4 different places. The device remembers the maximum and minimum values, displays the humidity comfort icon and has the option to backlight the display.
Airbi TRIO helps with these problems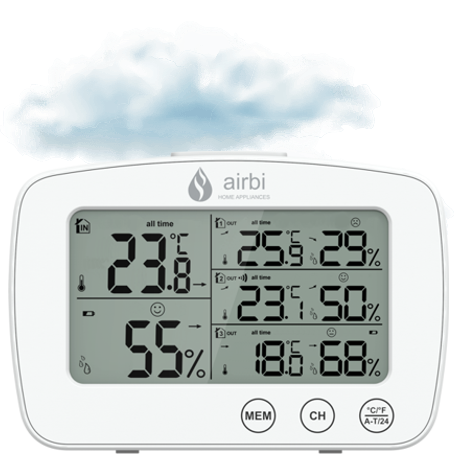 45 €
Recommended retail price
measures temperature and relative humidity
the package also includes three wireless transmitters (max. range 100 m)
large and clear display with backlight options
memory for MAX and MIN values
indication of humidity comfort
indication of temperature development/humidity
low battery indication
Description
The digital wireless thermometer with air humidity meter Airbi TRIO measures room temperature in the range of -10 ° C to + 50 ° C and room humidity in the range of 20-95%. The package already includes three wireless temperature and humidity sensors, which communicate at a distance of up to 100 m (outdoors). With the Airbi TRIO you can monitor the temperature and humidity in 4 different places. Wireless transmitters are designed for both indoor and outdoor use. The display with the option of short-term backlighting offers the user a quick overview of all measured variables without the need to switch between transmission channels.
The Airbi TRIO remembers maximum and minimum values for the entire operating time (manual reset) and at the same time for the last 24 hours (automatic reset). The advantage is also other information icons such as indication of temperature or humidity development and indication of humidity comfort by means of a smiley face. The device also has an indication of low batteries both in the base and in the individual transmitters.
Pomer vs. cena kvalita -SUPER. Som spokojná.

+Připojení 3 senzorů.
-Návod obsahuje nesmyslné pokyny.
-Uvítal bych časový údaj.
Děkuji a hodně štěstí
Perfektní, jednoduchý a splňuje přesně to, co potřebuji (tři externí sensory, hned připojené, snadné uchycení). Airbi má výborné nápady a produkty, které se opravdu dají použít.
Produkt je velmi dobře navržen. Tři teplotní a vlhkostní čidla plní mé požadavky na rozmístění v domě a reálný odpočet hodnot z prostředí, kde jsou umístěny. Za mne velký pomocník. Děkuji
jednoduché zobrazení informací
Líbí se mi tři čidla do tří různých pokojů.
Okamžitě se spárovala s čidly.
Mohl by být u hlavní jednotky barevný displej a napájecí trafo.
I tak jsem velmi spokojen.
Produkt sme si zakúpili kôli monitorovaniu vlhkosti v byte. Je výborný každý snímač má vlastný displej a tak nie je potrebné sledovať hlavný snímač. Veľmi praktický produkt. Oceňujem podsvietenie ktoré je potrebné pri danom type displeja. Veľmi som spokojný.
Super velmi jednoduché na instalaci máme byt. V každém pokoji máme čidlo a teď víme kde jakou máme vlhkost a doufám že nám to pomůže s plísní v bytě
Opravdu pěkný design, perfektní a funkční podsvícení. Kvalitní provedení včetně zpracování plastu výrobku.
Velký přehledný displej, v noci super podsvícení. Přehled o teplotách na 4 místech současně!!
Pozitiva: měří jen teploty a vlhkost; 3 čidla v balení; možnost pdosvícení displeje na hlavní jednotce. Negativa: hlavní jednotka je na 3 mikrotužkové baterie; z některých úhlů je displej špatně čitelný; displeje na čidlech špatně čitelné, mrňavá čísla. Tento teploměr Airbi TRIO s 3 čidly je prostě božský. Ukazuje všechny teploty a vlhkosti>https://i.imgur.com/cuFgT3m.png< DOPORUČUJI
Jednoduchá instalace, vše funguje hned po zapnutí. Rozmístění sensorů je snadné, neboť nejsou nikterak veliké. Velký a přehledně čitelný display, včetně upozornění na kvalitu ovzduší v rámci relativní vlhkosti (ikonka).
Životnost AAA baterií ještě neposoudím, neboť dle výrobce to je pomerně dlouhá doba i kolem roku a více v závislosti na podmínkách umístění sensorů a stanice.

Osobně bych uvítal i radiové hodiny, ale je to spíš "hezké mít", ale jinak produkt splňuje moje očekávání na výbornou.
Páči sa mi jednoduchý a čistý dizajn výrobku. To že nezobrazuje čas a iné zbytočné informácie vnímam ako výhodu. Oceňujem že v cene výrobku sú hneď tri teplotno/vlhkostné čidlá. Je to veľmi výhodná kúpa v zmysle pomeru cena a výkon.
Produkt zatím splnil očekávání. Všechny senzory udávají na jednom místě stejnou hodnotu. Dosah dostatečný - jedno čidlo v patře (přes dřevěný strop), druhé čidlo ve sklepě (přes betonový strop), třetí čidlo venku (cca 12m přes 2 45cm zdi) a hlavní jednotka v přízemí a vše bez problému
View all
Temperature measuring range

Base: -10 °C to +50 °C

Wireless sensor: -20 °C to +60 °C

Humidity measurement range

Base and wireless sensor: 20-95 %

Accuracy of temperature measurement

+/- 1°C (0°C to +40 °C), otherwise +/-2°C

Accuracy of humidity measurement

+/- 5 % ( at 40...80%)

Power supply

Base: 3x 1.5 V AAA batteries (not included)

Wireless sensor: 2x 1.5 V AAA batteries (not included)

Dimensions

Base: 152 x 104 x 22 mm

Wireless sensor: 50 x 105 x 26 mm

Weight

Base: 179 g

Wireless sensor: 52 g
---
Why do the measured values ​​differ from those measured by other measuring instruments?
Where to place the measuring instrument?
Why does the display show - - instead of outdoor values?