Airbi REFRESH
For those who lack clean air, there is the Airbi REFRESH air purifier. It offers a 4-fold filtering system, it is suitable for rooms up to 30 m2 and thanks to the very low noise, it is also ideal for the bedrooms. REFRESH is the ideal partner for the bedrooms of all allergy sufferers, it effectively captures dust and pollen.
Airbi REFRESH helps with these problems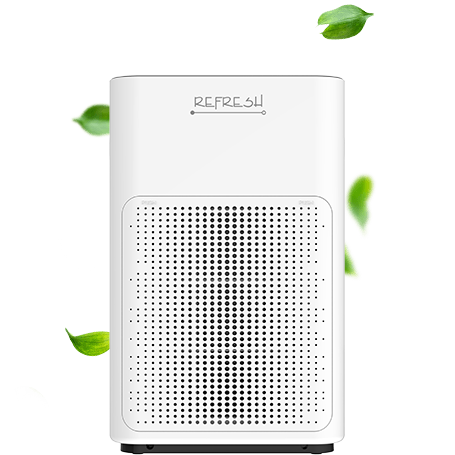 189 €
Recommended retail price
Description
Airbi REFRESH is one of the most functional air purifiers, which use the state-ot-the-art methods for air purification. The device offers 4-fold filtering system, its air output is dimensioned for rooms up to 30 m2 and due to the very low noise level, it is an ideal helper not only for the bedroom.
The biggest advantage of the air purifier is an automatic operating mode, which automatically adjusts the fan speed thanks to the built-in air quality sensor. REFRESH outperforms competing devices in the market with many other features, such as Timer, Child Lock or a negative ion generator - called ionizer.
REFRESH is equipped with an ultra-quiet motor (30 dB) and a very accurate sensor that detects particles as low as 2.5 µm. Instead of your lungs, tthese microparticles will remain stored in the filter system of the purifier. All you have to do is replace the filter about every 12 months, but the cleaner will alert you in advance.
For easy identification of individual functions, the device is equipped with  touch LED display, on which you will also find a colour indicator of the air condition and the corresponding power of the purifier - green indicates good condition, orange deteriorated air and red bad air condition.
The Airbi REFRESH air purifier has a positive effect on the environment and removes dangerous viruses from the air. Airbi REFRESH also captures pollen and it is also suitable for allergy sufferers.
Jsem velmi spokojený, čistička není téměř slyšet a od té doby co ji máme doma se znatelně snížilo množství prachu na nábytku.
| | |
| --- | --- |
| Air output | up to 200 m3 |
| Recommended room size | 30 m2 |
| Power consumption | 40 W |
| Noise | 30-55 dB |
| Dimensions | 325 x 172 x 510 mm |
| Weight | 5 kg |
| Colour | White |
| EAN | 8594162600601 |
---
What is the service life of the pre-filter?
The ambient air is polluted, but the device is signalling good air (green colour).
What is the service life of replaceable filters?
The ambient air is polluted, but the device is signalling good air (blue colour).
How does REFRESH calculate air quality?
An odour comes out of the device. Why is it?
Does the device produce ozone?
The purifier cannot be switched on. Where can the problem be?
The device has been in operation for a long time, but the air quality has not improved.
Why do the LEDs next to the operating mode selection button flash?