Airbi ZEPHYR
If you do not want air conditioning, a powerful fan is the best solution on hot days. Of course, a quiet one, so that it can work at night, while you sleep. And it must not take up much space to fit anywhere. We have just described a column fan Airbi ZEPHYR, that moves the air in every room.
Airbi ZEPHYR helps with these problems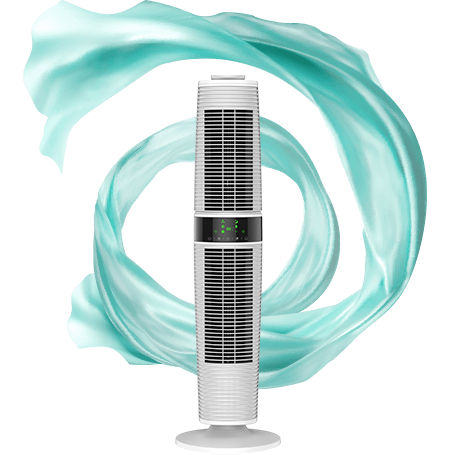 99 €
Recommended retail price
suitable for up to 50 m2
adjustable direction of the upper part of the device
two directions of blowing
oscillation option
6 operating modes
very compact dimensions
quiet operation
operation timer
remote control
Description
As the years go by, summer temperatures are coming sooner and sooner, so it's no exception that your home or office will turn into hot hell in early June. It is therefore high time to think about how to survive the summer and create an oasis of cool air where you can hide from the heat.
If you do not have or do not want air conditioning, a powerful fan is the best solution. A great choice are modern column fans, which have a rotating grille instead of a propeller and are therefore not as noisy as their propeller competitors.
Airbi Zephyr column fan has a unique system with a vertical rotor that provides a flow of up to 500 m3 of air per hour and is suitable for rooms up to 50 m in size2.

The uniqueness of the Airbi Zephyr fan is underlined by the option of blowing the air in two different directions thanks to the upper part of the fan easily adjustable at any angle. There is also the option of automatic rotation of the entire device, which in combination with the two air output directions ensures even distribution of cooling air throughout the room. Due to the absence of large blades, the fan has a slim shape and a diameter of only 28 cm, so it can fit in cramped spaces, where a classic propeller fan cannot be placed.
The Airbi Zephyr fan comes with the option of the timers (1-8 hours) or 4 different operating modes. In addition to the manual mode with three speeds, you will also find a night mode for a good night's sleep, a natural mode simulating the wind or the ECO mode, which regulates the speed according to the ambient temperature. You can adjust all settings and controls either directly on the device display or with the included remote control.
Líbí se mi design výrobku, jeho rozmanité funkce a nenásilný proud vzduchu.
| | |
| --- | --- |
| Power consumption | 45 W |
| Recommended room size | 50 m2 |
| Air output | 500 m3/h |
| Noise | > 40 dB |
| Weight | 4,8 kg |
| Dimensions | 280 x 280 x 968 mm |
| Colour | white |
| EAN | 8594162600663 |
---
Noise comes out of the device. What is the cause?
How to perform maintenance on the ZEPHYR fan?