Airbi PET
The Airbi PET aroma diffuser is a great companion for children, helping them fall asleep more easily. Just add water and a few drops of soothing essence to it, and your little one will be breathing contentedly in no time. Thanks to the original animal design (cat, dog or owl) and the possibility of pleasant backlighting, your child will have a friend in his room with whom he will feel safe at night.
Airbi PET helps with these problems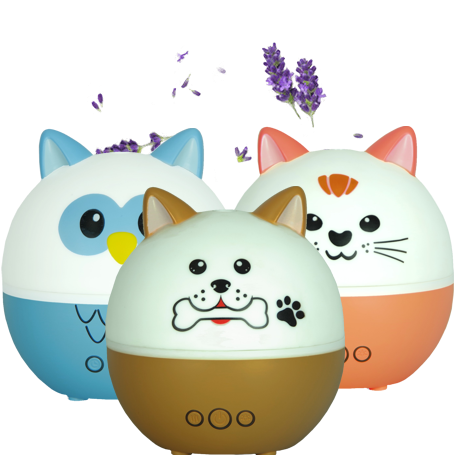 40 €
Recommended retail price
design with popular animal motifs – cat, dog, owl
different modes of LED lighting
continuous/interval mode of operation
traffic timer (1 hour)
automatic shutdown when the water runs out
quiet operation (max. 40 dB)
ultrasound technology
Description
The diffusers offer 7 different colors of light (white, warm white, red, yellow, purple, green, light blue, dark blue). Choose one of them permanently or let them alternate smoothly. This backlight can be turned off completely. In addition, you can also choose the operating mode of the device. In continuous mode, the diffuser will run until it runs out of water or you turn it off. Interval mode works so that the device works for 30 seconds and rests for 30 seconds. This saves the filling and prevents you from losing the scent after a while.
In addition to the health benefits brought by individual essential oils, the diffuser brings one more advantage – it humidifies the air in the room and thus protects children from diseases. Moistened respiratory mucous membranes are much better at capturing bacteria and viruses that would otherwise enter the body. If necessary, you can completely turn off the diffuser function and get a pleasant night lamp.
The PET diffuser also offers a timer function for one hour, during which time it will provide a pleasant fragrant company to the sleeping child. It then turns off automatically to allow the child a peaceful and undisturbed sleep.
Power supply

AC 100-240V, 50/60 Hz (input)

DC 24V (output)

Water tank capacity

250 ml

Material

ABS + PP

Noise level

< 40 dB (A)

Model

cat, dog, owl

Room size

10 - 20 m2

Dimensions

13,5 x 13,5 x 14,5 mm

Weight

340 g (without adapter)
---
How to perform maintenance on aroma diffuser?
After switching on, the device switches off immediately. Why?
The device releases less steam than before. What should I do?
How many drops of aroma essence should I add to the water?
Water leaks from the diffuser. What should I do?
How to use essential oils?
LOTUS cannot be started, instead of switching on, only the LED flashes. What with this?